Slow Flow Packing List
Participants in Slow Flow, will need to bring the following items:
Essentials
Sleeping bag(good/warm)
Personal Toiletries
Drink Container
Food is provided but you should bring any extra snacks that you would like to have along on the trip:
Dried fruits/nuts/biscuits/snacks/sweets.
Small bottle of antiseptic or iodine
Sun lotion
Insect repellent
Towel
Torch
Anti diahorrea pills
Plate cup & cutlery

 

Bandage
Clothing
Swim suit
3 tee shirts
3 prs shorts
2 thick socks
Warm jersey or fleece
Sandshoes (shoes that can get soaking wet and also have grip - hiking sandals are good - crocs ok on the river but slippy on mud banks)
Underwear
Long trousers
Raincoat
Sunhat
kayak tops/wetsuits
polyprop longjohns
Though it is not that cold during the summer, you will get wet, either from the river or the rain. Please bring clothes that can be worn wet, wool, polyprop or wetsuits are good.
Projects
Please bring everything you need for your project, including your own power sources and batteries. We will have take a pair of deep cycle 6V batteries with us to make a 12V supply and an inverter if needed.
Please let us know if you have any special requirements for your projects
There is no wifi broadand or mobile phone access at any point in the journey. We are looking into some network access so if it is essential for your project do let us know.
Packing
We will supply one waterproof 30L drybag or drum for each person. All personal items that you bring, including sleeping bag, clothes and project materials will need to fit into it. The dimensions are approximately 300mm diameter x 550mm height. Food and other expedition supplies will be packed separately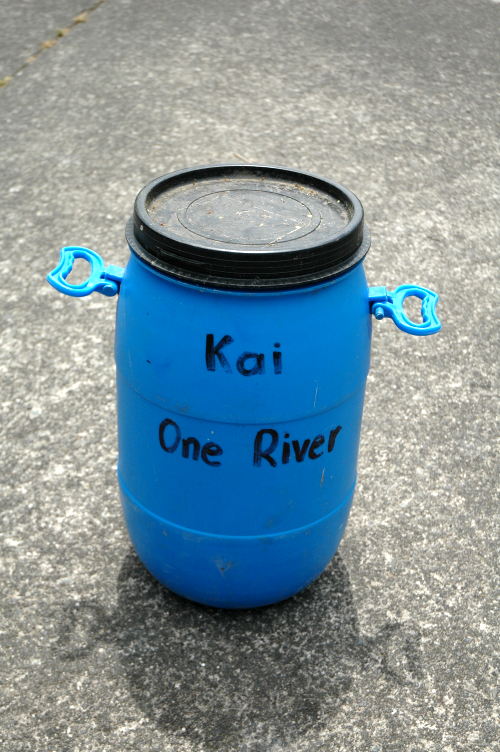 While the drums are watertight and have a rubber seal, they are not full-proof and have been known to get wet. We recommend placing items inside drybags, which we can provide. As a final precaution, electronics and other sensitive equipment should be placed in watertight cases such as pelican cases. We suggest that you only bring things that you don't mind getting wet!
We will pack the bags and drums in Wanganui before heading up the river and other any other luggage can be left there for the duration of the trip and picked up at the end.
Please separate gear before you arrive into: 1. Things we will take on the river section 2. Things to be delivered up to Jerusalem 3. Things to store in Wanganui for collection at the trip end.
Remember that you will have to carry all the above gear on your waka and up to the places where we will be staying each night. Please just bring what is essential and ask advice if you are in doubt. If you are travelling from abroad and need help sourcing things in NZ, or have any other queries do let us know./p>